Carturner simplify car maneuvering in narrow spaces and improve utilization of parking areas.
Carturner is the most simple, reliable and powerful turntable. In driveways and garages with little maneuvering space the turner can increase Space effectiveness. And with restricted property development dependent to parking capacity this can open for more housing units in a Project. If a driveway is narrow, curved and maybe lead directly into roads with severe traffic, the benefit of turning car and drive forward out is obvious. Not only reducing risk of car damage and scratches but also improve pedestrian safety.
The turner is accessable from all angles with the benefits of reduced manouvering, faster engine cut and less exhaust.  With it's 72 panel integrated rolls the load capacity exceeds 3,5 tonns and opposit to. traditional turner concepts the load does not balance on center bearing. The Carturner is so simple to use that one individual easily both manouver the car and run the turner. With wireless control it's not necessary to leave the car for turning. It's avilable in both flush-mount and surface-mount version. The surface-mounteam version is assembled on top of excisting floor and do not require deep anchoring. Rotating speed is 1/2 turn in 22 seconds.  The power package consist of 6 pieces powerful 50W/24V engines with individual transmissions. The turner will run even with only 2 operating engines. And it turns even in 10 degrees slopes.  We keep turners in stock in anti skid powder coated and brushed stainless steel finishes.
Carturner is on stock in standard light grey anti skid powder coated or brushed stainledd steel turntable. We can provide it in full custom coating acc. to RAL color chart to fit perfectly into an excisting interior design. Brushed stainless steel is technically a bit more slippery, especially under operation in wet environment.
Indoor or outdoor it cabn be delivered in flush mount version that  requires an app. 10 cm. deep "well" in flooring. It then should be a drain from the "well" to avoid water overfloat from melting snow etc.
When surface mounted it is required anchoring to prevent the turner from moving over time. However, the anchoring is normally possible to enter without conflicting with heating cables, pipes etc. in the floor construction.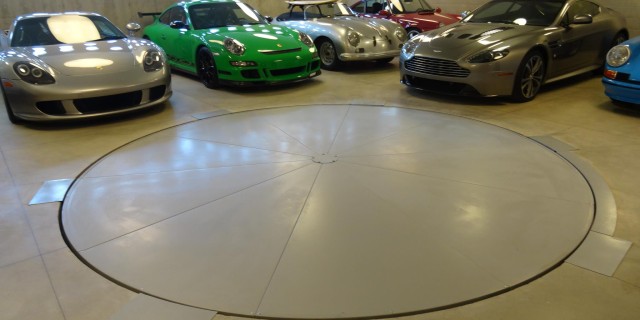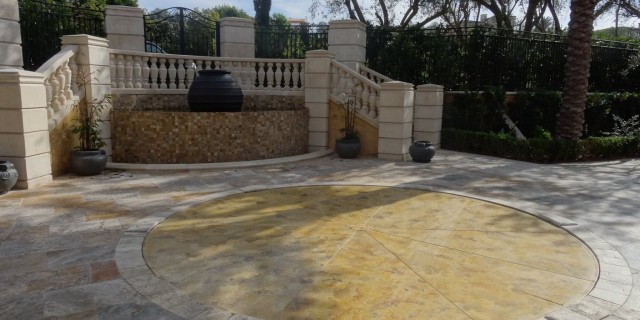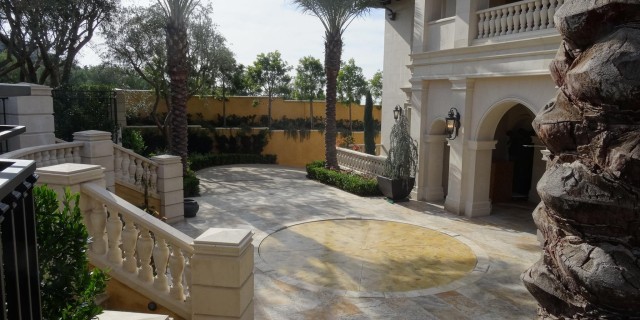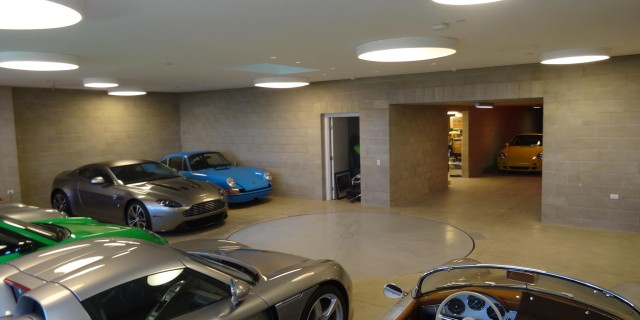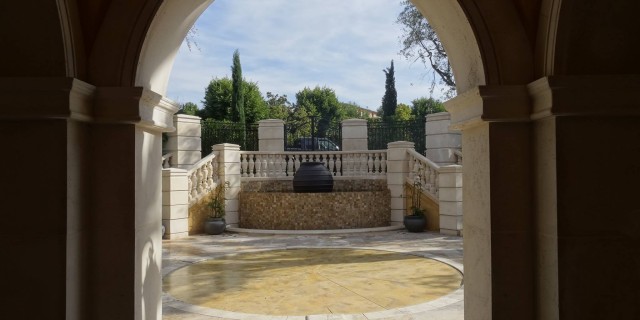 Quality at all levels
Carturner is developed with an eye for quality and durability. All parts of the basic construction such as the spider are made of high quality lasercut stainless steel. The central bearing is milled with CNC tools. Bolts og rolls are properly dimensioned. The engine package has a lot of extra power. Carturner is made to turn – no mather what! You can even run it in backup solution during power outage on a couple of car batteries.
The turner comes in a special welded steel cage solid enough to hold it collected as one unit and protect it during transportation. This reduce risk for damage and loss of Components before installation. Net cage measures: weight app. 0,9 tonn, volume app. 4,5CBM.
Technique and dimensions
Carturner "surface mount" measures 470 cm. (15 feet 4 inches) in overall diameter. The table it self measures 406,5 cm. (160 inches). It elevates less than 8 cm.(3 inches) in outer edge.  The electrical engines (6 pcs.) and wire harness are hidden under the surrounding access ramps. This way they are available for service without disassemble the heavy construction table itself. Carturner is delivered complete with low voltage converter that require AC input between 110-240 Volts.   Mounting hardware for fixing the "spider" to the floor is not included.
Standard engine package consist of brush engines with a set speed. As customization we deliver brushless engines with  stepless rotation speed control from 1/2 turn in 45 seconds. This package is more relevant to display use or in showrooms for the sake of employees working nearby an operating turner.
"Flush Mount" version can be delivered. It require quite some structural preparations up front.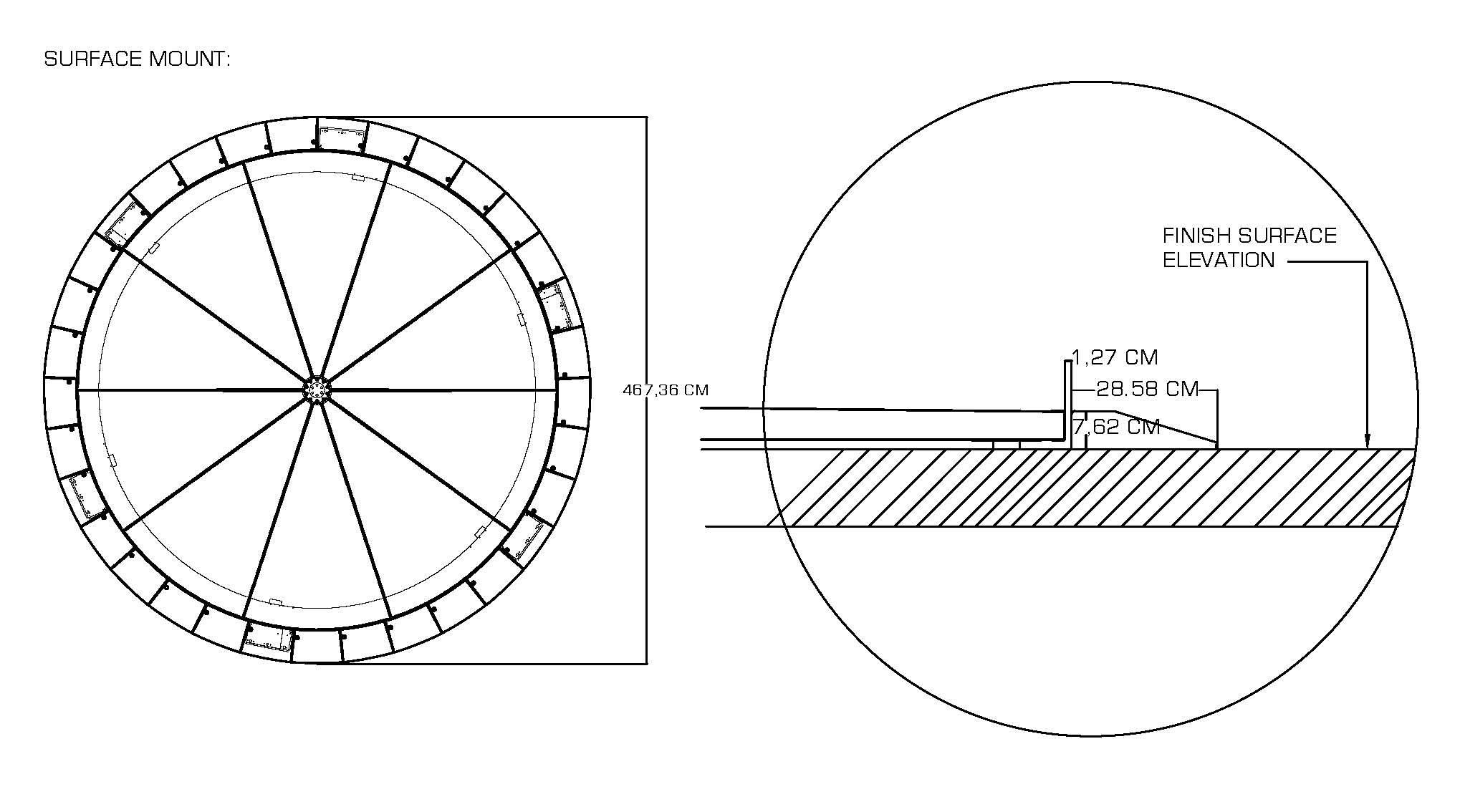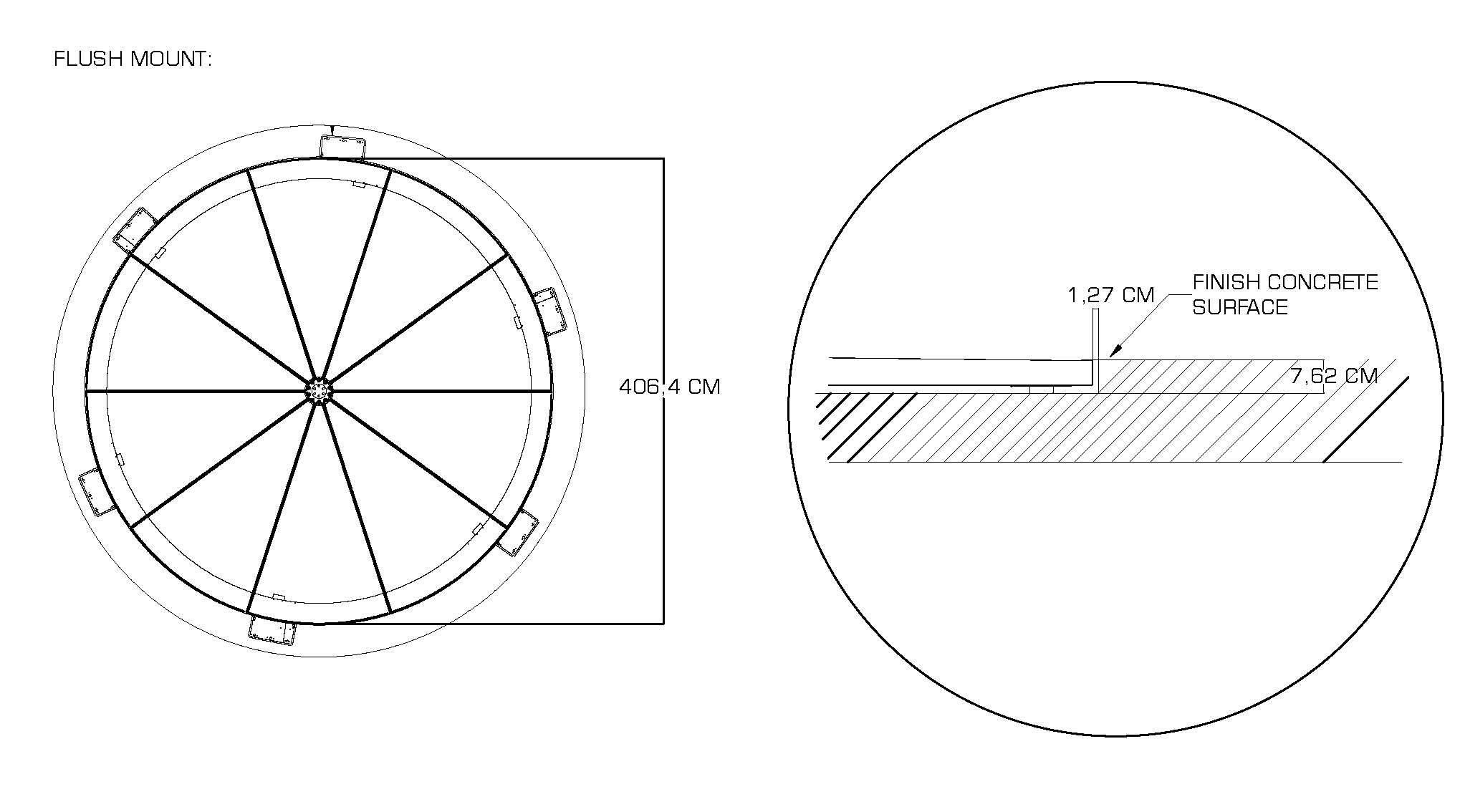 Maintenance
Carturner requires no extensive maintenance cycle. But once in a while it is advisable to remove a panel and vacuum away sand and dust that may have accumulated on top of the underlying structure (the spider).
Price
Please contact us for quotation incl. shipping to your address.
Basic construction
The CARTURNER brand turntable is a Lazy Susan with two principal components the "spider" and the "pan". The spider is the underlayment which consists of three stainless steel rings connected by six stainless steel spokes connecting to a Delrin center hub/bearing. The clips that connect the spokes to the rings are also made of stainless steel. The outer ring is approximately 1 foot wide and mounts the six motors, each one of which is located approximately at the end of one of the spokes. The outer ring also mounts the ramps, which cover up the motors and allow the easy transition onto the pan. The pan is a high density polyurethane foam/stainless steel sandwich. It has ten, pie shaped panels, which connect to each other by tongue and groove. They bolt to the solid aluminum hub which fits over the Delrin center bearing/hub on the spider. The pan is tapered to allow run off of water.
Wheel Sets
It has 70 individual wheel sets under the pan. Each wheel set has its own miniature suspension system. Each one of these wheel sets lines up and runs on one of the Three rings of stainless steel. Each wheel sets consist of a pair of sealed stainless steel bearings, a solid stainless steel axle, solid Delrin wheel, and a pair of polyurethane spring pads in a glass reinforced nylon cup. We tested different wheels materials for 2 years. The solid Acetyl/Delran™ wheels that we use had less wear, less friction, and less noise than solid aluminum. We feel they are well worth the extra cost. Hard wheels have a very high point pressure. Narrow wheels means all the load is concentrated in a very small area, which can crack or cause wearing of the concrete.We use a wide wheel and 70 of them to spread the load. The result is that a 120 lb.woman can push a 4000lb. car around by hand.
Electrical and DC Motors
The motors are 50W 24V DC motors, with reduction gear heads. Turning time is approximately 22 seconds for 180 degrees. There are six motors. Draw is approximately 2 amps per motor. The motors direct drive onto the outside of the pan. The polycarbonate motor suspension arms enclose the sprockets + chain. Tension is provided by a polyurethane spring. The ramps completely enclose the motors. The machine will run on 2 motors, but we put in 6 for redundancy. We have run these machines on grass, powered by 2 car batteries for more than 12 continuous hours.
Electrical Convertor Specifications
The converter is a 500W 24 volts UL listed package. The wireless controller is UL approved and is off the shelf (ACE hardware). All the connectors are Delco Sealed connectors. Our UL-approved Meanwell converter accepts anything from 60-260 volts and converts it to 24 volts DC. Because it is 24 volts DC, there are no safety concerns and no permit requirements.
Suspension System
No concrete is completely smooth unless it is machined. There are small undulations. Our polyurethane suspension pad suspension system makes sure the wheel is flat to the concrete surface. The fact that these wide, coated wheels run on the smooth, stainless spider further spreads the load and reduces friction.
Interchangeability
Every single part of the machine is interchangeable. Each and every part can be replaced in less than ½ hour. A motor is replaced in less than 5 minutes. Every metal part, including all nuts and bolts, except the drive wheel is stainless steel. All metal pieces are laser cut for precision.
Total Weight Capacity
We have not tested for total weight capacity. However, we have not been able to break a CARTURNER. We have driven semi-trucks, loaded scrap haulers, and loaded steel delivery trucks over a CARTURNER repeatedly with no ill effect. Maximum weight that we were able to fit on our CARTURNER was a 16,000-lb forklift. One strong man was able to spin the CARTURNER a complete revolution by pushing on the loading forks of the 8-ton forklift.
Load Distribution
Our turntables distribute load very well. We have run several of our CarTurners on grass, and gravel. We placed 7/17" Base Material under the spider.
Maximum Slope
Center of mass of our CarTurner is less than 1". The maximum slope a car dealer has attempted is 30%, but this was an exotic car with a very low center of gravity. We would not recommend a high center of gravity SUV or jacked suspension vehicle on a steeply angled CarTurner since as the auto reaches a point where the side is parallel to the ground it might slide off the machine.
Dimensions and Weight
Total footprint: 15' 4"; Turning surface: 13' 4"; Height: 3" at edge; Shipping weight: Approximately 2007 lbs.; Shipping dimensions: 84" x 40" x 64"
Surface Mount Turntable vs. In-Ground Turntable
Our patented design can be flush or surface mounted, whereas old Technology turntables can only be mounted in-ground because of their profile. Since our Carturner brand turntable can be used either way, we have a preference for surface mount. As you drive onto the turntable you can feel it. Surface mount means you can also move the machine slightly if needed or remove it completely.
Why Stainless Steel?
If you live near the coast or in an area where they salt the roads, stainless steel is a must. Even though it costs four times what regular steel costs, we believe it is essential. If a stone in the tire scratches a galvanized turntable, it will then start rusting.
Static vs. Dynamic Loads
We believe static load is not the most important criteria. The real issue is that 100% of the inertia of the car must be transferred to the turntable. In other words, a 4000-5000 lb. car going from 10 mph to zero mph in just a few feet represents a dynamic load much greater than the car's static load after it has come to rest. Because Carturners center of mass is less than 1" high and the load is spread across the platform, it distributes this inertia better than any other turntable Product.
Ask us
Please do not hesitate to contact us if you have further need for information or want us to look on a potential project. We have access to empirical data that can be helpful to detect such as potential return on investment, technical opportunities etc.